C2E2 Debut For Talent Caldwell Series Leads To Increased Demand For Thrilling New Sci-Fi Series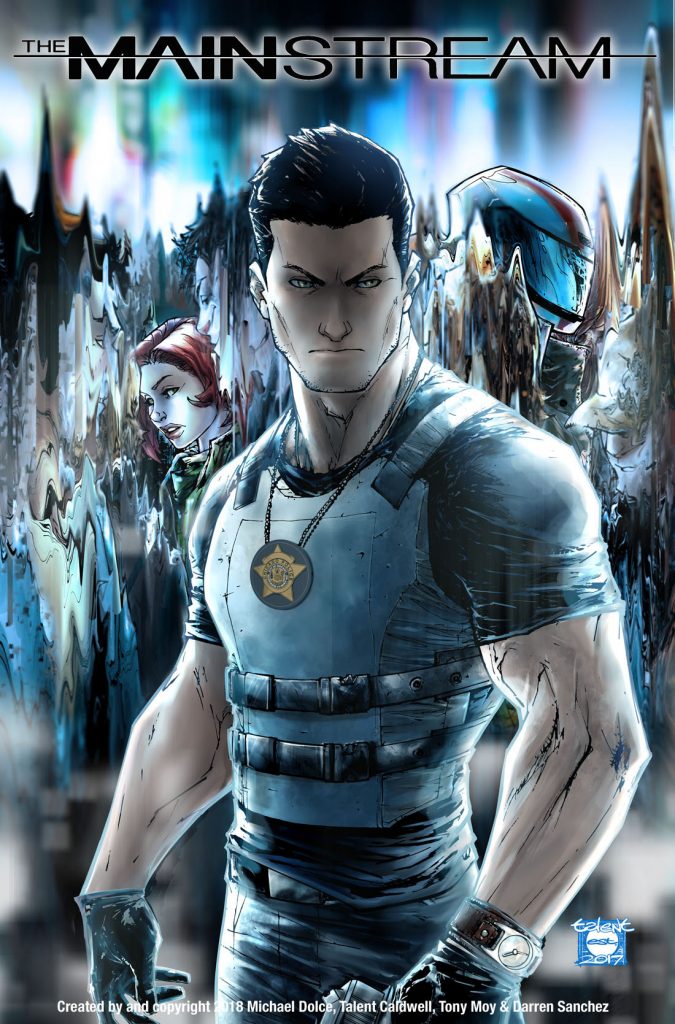 (NEW YORK, NY – May 1, 2018) The anticipation for Zenescope Entertainment's new release "The Mainstream" has been building for months, and the advance praise at last month's C2E2 comic convention in Chicago has lead to an official sell-out at the distributor level. Graphic novel fans nationwide have eagerly snatched up copies of Talent Caldwell's return to comics, featuring the writing talents of Michael Dolce (The Sire, Image Comics' Descendant) and art by Tony Moy (The X-Files). Scheduled as a full-color, five-issue release, issue #1 of "The Mainstream" is now sold-out at Diamond.
The Mainstream tells the story of Chicago police detective Nate McAllister and an inter-dimensional police force known as The Keepers as they pursue an evil force that has maliciously crossed over from an alternate reality — with nothing less than the fate of our planet at stake. In addition to reader interest, the series has garnered glowing accolades in the comics press as well.
Derek Becker of the popular podcast "Comic Pros and Cons" calls The Mainstream "a perfect example of a creative team working together: Dolce, Caldwell and Moy have crafted a sci fi thriller grounded in reality that delivers one of the best first issues from any genre."
"Weird Science Comics" compared The Mainstream to two of the most popular sci-fi series in the genre when they wrote "The art and story definitely scratch an itch with it's X-Files and Sliders vibe" and gushed at the pacing of the book. "Michael Dolce and Talent Caldwell are [all] about the mood, the mystery, and the intrigue. The questions have me looking forward to the next issue."
And "Reading With A Flight Ring" called The Mainstream #1 "A stunning debut. If your shoppe doesn't carry it you need to tell them to!"
Since its launch in 2005, Zenescope has established a reputation as the preeminent publisher in the field of comics and graphic novels. A number of Zenescope Entertainment's titles, including "Grimm Fairy Tales," "Wonderland," and "The Piper" have been adapted for film and television. "The Mainstream is in prestigious company, and with this distribution support is sure to win legions of new fans, eager for the next issue.
According to Zenescope co-founder and publisher Ralph Tedesco, when he first had a chance to read "The Mainstream," he could immediately see that it was destined to be a hit. "Most of our titles are created in-house," Tedesco said, "but this sci-fi story was so unique and so exciting – and the creative team is so talented — I immediately knew that we wanted to bring it to our readers."
New readers interested in the series can place back-orders through Diamond Comic Distributors and reserve copies of the current issues in this month's Previews Magazine.
To order copies of The Mainstream please use the order codes below:
Issue #1 Order Code: FEB182017
Issue #2 Order Code: MAR182138
Issue #3 Order Code: APR181910
Issue #4 Order Code: MAY182145
There are people on this Earth that do not belong. It's up to a Chicago detective and a covert, inter-dimensional police force to send them back where they came from! Don't miss this brand new five-issue mini-series from the creative minds of Michael Dolce, Talent Caldwell, Tony Moy, and Darren Sanchez.
For more information, visit www.zenescope.com and www.mikebooks.com
Also — www.diamondcomics.com
To coordinate media coverage, contact:
Lauren Klassik
Director of Marketing
Zenescope Entertainment
Tom Martin – Tom Martin Media, LLC
203-297-2137