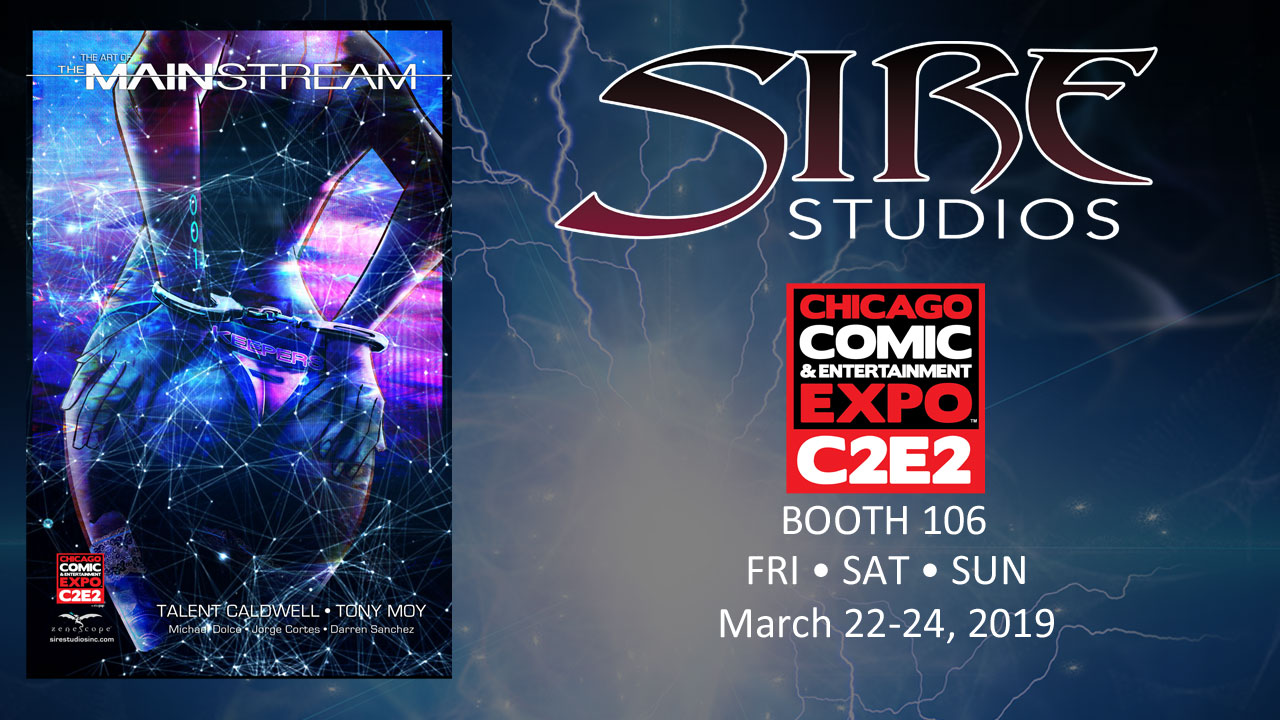 FOR IMMEDIATE RELEASE March 21, 2019
Chicago, IL

Creator Michael Dolce announces rebranding of his studio, upcoming podcast and graphic novel projects.
Mikebooks.com no more!
In exciting news announced at the C2E2 convention – taking place in Chicago, IL, March 22nd-24th – creator Michael Dolce officially declared an end to the long running web site home to his creations, Mikebooks.com, officially rebranding the company as Sire Studios Inc. and heralding the start of a brand new Multi-Genre IP Production company at sirestudiosinc.com.
"The brand has been evolving since I launched Secrets of the Sire three years ago," Dolce explained. "We're reaching over 50k viewers/listeners a month across over 20 platforms. People identify me with the character, The Sire, now more than they ever did with Mikebooks. Which, to be honest, is a pretty awesome feeling considering The Sire has been such a huge part of my life for over 13 years. It only made sense to relaunch Mikebooks as Sire Studios."
In addition to the rebranding, Dolce promises exciting new projects both in the comics field and beyond.
"Podcasts are huge right now, and audio dramas are the next big thing. We're working on an all-new series that we'll announce this summer. I can't speak too much about it right now, but we have an Emmy award winning writer on board and Sire Studios will be producing the podcast. We're thrilled."
In addition to the audio dramas, Dolce also promises more graphic novel projects in the works including a follow-up to the critically acclaimed sci-fi series The Mainstream.
"We're shopping 2 or 3 different titles across multiple genres right now and we're hopeful to find a publishing partner to bring these ideas to the market. It's an exciting time for everyone involved."
Look for the Sire Studios brand to extend to all future social media platforms and communications as the roll out is officially under way.
About Sire Studios Inc.:
Sire Studios Inc. is a premier Graphic Novel, Podcast and IP Production Company.
Founded in 2001 as Mikebooks.com by writer, artist & podcaster Michael Dolce and officially rebranded in 2019, Sire Studios Inc. boasts an assortment of projects in the Comics, Podcast, Talk Show, Film and TV space. Comic Book credits include the recently sold-out sci-fi tale The Mainstream from Zenescope, Descendant from Image Comics and The Sire from After Shock Comics. All projects can be downloaded on Comixology, iTunes, and Amazon.
The acclaimed podcast, Secrets of the Sire, co-hosted by Hassan Godwin, has been steadily growing in popularity since its launch in 2016 consumed by over 50K per a month.Podcasts receive global distribution on Apple Podcasts, iHeartRadio, YouTube, Google Play, Spreaker, Soundcloud, Stitcher and more. In 2019, Secrets of the Sire gained distribution on ROKU, Sonos, and Apple TV.
Currently, Sire Studios Inc. is working on a number of new launches in both the graphic novel and podcast world.
For press inquiries please email sire@mikebooks.com
Meet the team behind The Mainstream at C2E2 this weekend.
Get the exclusive Art of the Mainstream signed by the entire creative team and listen to creator Michael Dolce speak on Sunday at the Zenescope Panel.
For more details visit c2e2.com or visit the all-new SireStudiosInc.com
The Art of the Mainstream
EXCLUSIVE! Get the inside info and never-before-seen artwork that made THE MAINSTREAM such a successful comic. Featuring all 5 exclusive covers, the regular covers, designs and the never-before-seen WATERCOLOR pitch version by Tony Moy, the ART OF THE MAINSTREAM is a must have to complete your MAINSTREAM collection.
BONUS! These comics are signed by the entire creative team!